Born Michael Sylvester Gardenzio Stallone on July 6, 1946, in New York City, "Sly" Stallone is one of the most popular Hollywood action stars of all time, playing such iconic characters as John Rambo and Rocky Balboa.  Stallone got his start writing and starring in 'Rocky', which was an instant hit.  It received 10 Oscar nods and won for Best Picture!   Stallone's career took off from there, becoming a true global action star icon and an acclaimed director and screenwriter.
So here's to you, Sly, on your 66th birthday!  Here's to the decades of hard work, ups & downs, and endless entertainment you've given movie audiences, both old and new.
(You click any of the images in this post if you want to watch his revengeful return as 'Rambo'.)
Did you know Sly turned down roles in the following successful movies?…
Christopher Reeve's role in 'Superman' (1978)
Jon Voight's role in 'Coming Home' (1978)
Eddie Murphy's role in 'Beverly Hills Cop' (1984)
Harrison Ford's role in 'Witness' (1985)
Richard Gere's roles in 'American Gigolo' (1980), 'An Officer and a Gentleman' (1982), and 'Pretty Woman' (1990).
Bruce Willis's roles in 'Die Hard' (1988) and 'Pulp Fiction' (1994)
John Travolta's role in 'Face/Off' (1997)
Samuel L. Jackson's role in 'Rules of Engagement' (2000)
Kurt Russell's role in 'Death Proof' (2007).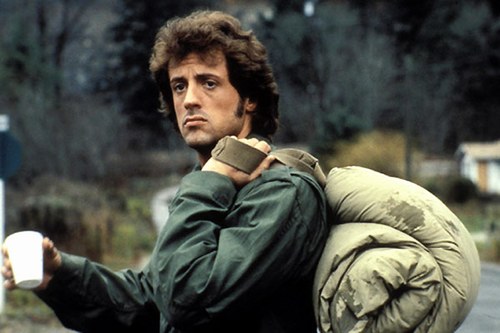 Below are 12 Rounds of  fun facts about Sylvester Stallone you may not have known:
Rd 1.  Birth complications, caused by forceps, resulted in paralysis of the lower left side of his face, manifested by a perennial snarl and slurred speech.
Rd 2.  Expelled from 14 schools for antisocial and violent behavior before the age of 13.
Rd 3.  At 15, his classmates voted him the one "most likely to end up in the electric chair."
Rd 4.  Attended the University of Miami on an athletic scholarship.
Rd 5.  Was 23 years old when he got his first starring role in the porno 'The Party at Kitty and Stud's' (1970).  He was starving and living at the bus station at the time.
Rd 6.  Lives in Beverly Hills, California.
Rd 7.  Oil paints in his spare time.
Rd 8.  Stallone was paid a mere $60,000 to act in the hit movie 'Cop Land' (1997).
Rd 9.  Prefers to be addressed as "Sly".
Rd 10.  All his children's names begin with the letter "S": Sage, Sargeoh, Sophia, Sistine and Scarlet.
Rd 11.  Was considered for the role of Joey Zasa in 'The Godfather: Part III' (1990).
Rd 12.  If he and Chuck Norris were to fight, the universe would explode.
Comments
comments