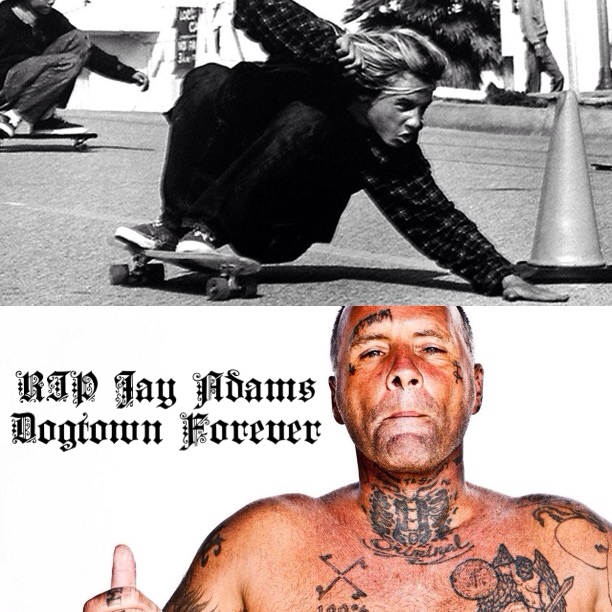 Today we just want everyone to remember legendary Dogtown skateboarder Jay Adams.  Jay passed away yesterday due to a heart attack at the age of 53 while on an extended surfing trip in Mexico.  RIP Jay and may your legacy continue forever.
February 3, 1961 – August 14, 2014
If you didn't know, Jay Adams was an American skateboarder most prominently known as one of the original members of Z-Boys skateboarding team.  He is known as "The Original Seed" of the sport and widely considered one of the most influential skateboarders of all time.  
Jay Adams was born in a part of Venice, California known to locals as "Dogtown".  He grew up with his mother and his step father, Kent Sherwood.  He began skating and surfing at just 4 years old!  His father worked at Dave Sweet's Surf Shop under Pacific Ocean Park, where Jay was introduced to skateboarding by all the surfers who visited.  In 1974, he joined the Zephyr surf team that represented the famous Santa Monica shop Jeff Ho Surfboards and Zephyr Productions.  He was the youngest and most naturally gifted member of the team with his unique surf-style approach to skateboarding.  When asked about Jay, fellow Z-Boy Tony Alva said, "Some kids are born and raised on graham crackers and milk, he was born and raised on surfing and skateboarding."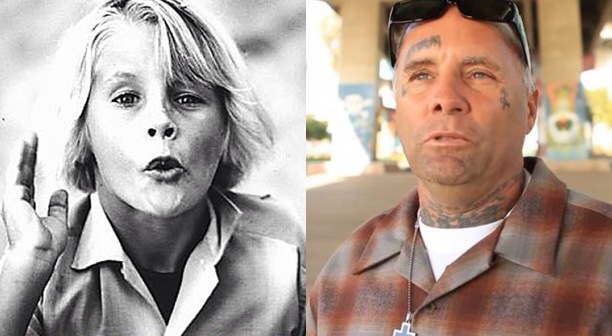 This hits me personally as I grew up in Venice Beach, California alongside a lot of these skateboarding legends.  I met Jay back in the late 90s with a few mutual friends.  I was no doubt spinning from the excitement of being in the presence of skateboarding "royalty", but it was clear at the time this lord of Dogtown was struggling with some afflictions.  It's no secret Jay has had his share of problems – from his youth years of growing up with nothing to the murder of his brother and death of his remaining family in the same year to his addiction, legal issues, and prison time for drugs – it's not entirely too surprising to learn of this early tragedy.  It's just sad.  He and his wife were allegedly sober for months, and for the first time allowed in years, on a trip outside of the US.
In honor of Jay's passing, we're watching the skateboarding documentary "LET THE GOOD TIMES ROLL".
Packed full of skate mania: Great Bails Section, Angel Ramirez drunken skateboarding, Josh Murphy's Back Smith Speer 10 stair rail, Ramirez's Alley-Oop Backside 180 Over speer rail, Derek Milton's Kickflip Front 50-50 Gazebo 9 stair rail, Nial Frederickson's Switch Ollie 16 stair in a line, David Reye's Frontside Noseblunt Speer rail & Kickflip Backside Crook 9 stair rail, Travis La's Boardslide on another skateboard down a handrail, Sean Frederickson's Back 50-50 down Emage 20 stair rail, and more!!
Starring Travis La, David Reyes, Josh Murphy, Derek Milton, Justin Shardy, Paul Azevedo, Trevor Uriona, Angel Ramirez, Gordie Cousino, Nial Frederickson, Sean Frederickson, Jared Stoots, Jerrod Saba, Micah Hollinger.