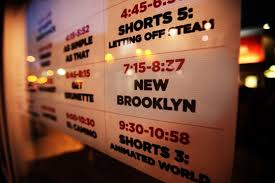 Today's New Release: NEW BROOKLYN
      An official selection at both the 2009 Cinequest Film Festival (San Jose, CA) and the 2009 Festivalito VIII (Canary Islands), as well as Winner of Best Narrative Feature at the 2010 Digital International Film Festival (Vina del Mar, Chile), this drama proves quite a feat, especially since it marks lead actor Blanca Lewin's first feature in English. In a film about both the determination and reevaluation of one's aspirations, as well as the painful crossroads that are long-distance relationships, Lewin's Marta is a most intriguing and vulnerable creature that will break the viewer's heart repeatedly; "It's okay, I'm used to being less important." Lewin holds her own easily here, but it doesn't hurt to have such a great cast, like Frank Harts (SALT, JACK RYAN: SHADOW RECRUIT, FX's THE AMERICANS) as her roommate's shady brother Eddie, and Matt Cavenaugh (LAW & ORDER: CRIMINAL INTENT). To listen to Lewin, you'd never think in a million years she hadn't acted in an English speaking movie prior, but here she delivers with the engaging style of a seasoned pro.
Viewers will enjoy this movie for it's homages to the cinematography of Brooklyn itself, not to mention the struggles of societal circumstance for each character as they maneuver through their own day-to-day drudgery. Whether it's Marta's uncertainty of her newfound place or purpose there after moving all the way from South America, or Angela's well practiced denial of her brother's misgivings, NEW BROOKLYN truly isn't that different from the 'old' Brooklyn: you just stick around long enough, you'll be surprised in all the ways you toughen up, and then grow in a new and bold direction.
Directed by Christopher Cannucciari
Starring: Blanca Lewin, Pablo Cerda, Matt Cavenaugh, Frank Harts, Shelley Thomas, Frank Nasso
Tagline: Change is inevitable