"How terrible not knowing what happened to your sister. I hope they get the swine. Just imagine! Leaving her like a run-down animal." ~ROBERT GRAETZ (Charly Hübner) nonchalantly rubbing in the fact to poor Vanessa (Petra Schmidt-Schaller) that her sister Janine's (Katharina Heyer) death was a senseless crime committed by a coward… *hint-hint* there, David (Maxim Mehmet), your kayaking trip is now officially SHITE.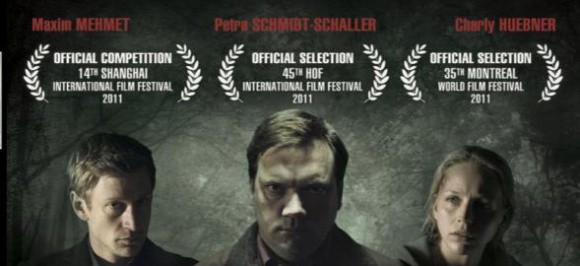 Today's New Release: THE GOOD NEIGHBOUR (a.k.a. UNTER NACHBARN)
          Winner of the *Award of the City of Lünen* at the 2011 Kinofest Lünen, as well as both *Best Actor* and *Best Screenplay* awards at the 2012 Málaga International Week of Fantastic Cinema, and a *Golden Camera* award in 2013, imagine if a serious and darker version of CABLE GUY starred THE DREW CAREY SHOW's John Carroll Lynch, was all in German, and had a little FARGO sprinkled atop? With THAT cinematic concoction, you get a film that was nominated for a *DSP Award* at the 2013 German Screen Actors Awards, stars Charly Hübner from THE TRANSPORTER T.V. series, and an *award-winning* performance that should be dubbed "State Farm," because like a GOOD NEIGHBOUR, Hübner's Robert is THERE… like, always there… never moves, except to follow you. This is a film that proves that car CD's are dangerous and obsolete, and if you don't have all your favorite playlists via iTunes, you're just going to end up killing innocent Euro-cyclists. Like "Sweetums" from the MUPPET MOVIES, Robert is just a big galoot that simply doesn't wish to be left alone. He is weird, though, and watches folks in a most voyeuristic way, like through windows as couples eat pizza with forks and knives! But you can't help but to think that Robert may be the innocent one, here. Sure, he's clingy, but he was minding his own, dumpy self when David came knocking on his door. In fact, I believe David was the catalyst of death during the duration of these snowballing events! Well, either way, no viewer will sympathize with the dopey row-boater; Robert just looks like he's doing "other stuff" with his hands, like, the whole movie. Personally, I believe that you should never trust a guy who watches nature shows on a Friday night while wearing a Polo shirt!
The 2011 Shanghai International Film Festival, the 2011 Montréal World Film Festival and the 2012 Razor Reel Fantastic Film Festival Bruges garnered this thriller much attention, and for a Friday night BIGSTAR movie, you can either go out with your weird neighbor and sideswipe some unknowing blonde while looking for a crappy techno CD you've had since college… or watch this. THE GOOD NEIGHBOUR (a.k.a. UNTER NACHBARN) is truly an OKTOBERFEST of SUSPENSE!!
Directed by Stephan Rick
Starring: Maxim Mehmet, Charly Hübner, Petra Schmidt-Schaller, Helmut Rühl, Rainer Sellien, Katharina Heyer, Peter Kaghanovitch, Henrik Zimmermann
Tagline: If He Wants To Be Your Friend, Run Away!