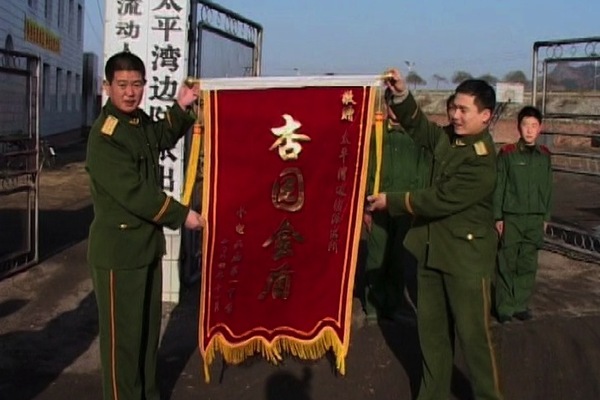 "If I'm not busy on the farm, I'm here collecting scrap. Where else would I be? Besides, it's not like I'm a murderer, running from the law. I'm just a junk collector. Hardly beats begging, but what else is an old guy like me going to do?" ~WANG YUFU, trying to talk the police into giving him his junk cart back, after he claims his sales permit for dealing in scrap was left at home.

Today's New Release: China's Award-Winning 2007 Documentary- CRIME AND PUNISHMENT (ZUI YU FA)
        This fascinatingly humorous and surprisingly contemplative doc was an *Official Selection* of the Hong Kong International Film Festival, and won numerous festival accolades like *Best Director* at the 10th One World International Human Rights Documentary Film Festival (Czech Republic), the coveted *Golden Montgolfiere* at the 2007 Nantes Three Continents Festival, and the *Nuremberg International Human Rights Film Award* at… well, of course, the 2009 Nuremberg International Human Rights Film Festival. Shot close to director Liang Zhao's hometown (which lies smack-dab at the China/North Korea border), CRIME AND PUNISHMENT follows a few young officers at the local police station as they carry out their law enforcement duties and features cases too insignificant and comically asinine to be reported by local news. Imagine if you will; FOX's COPS… in Red China! It's interesting enough that some of these incidents caught on camera that the police are called out on play through like an episode of Comedy Central's RENO 911. My favorite example: the deranged drunk who calls to report a dead "corpse" named Wang Huan in his home, and when the police arrive, all they find are a pile of positioned clothes shaped like a body. When the pile starts getting cleared, the man exclaims, "Where'd he go? He's gone!" Yet as awkwardly humorous as this doc starts out… it reveals itself to be a painfully stark inside look at a military police-state drenched in cruelty and injustice. Considering where our own country is these days with numerous cases currently claiming injustice and prejudice in law enforcement, there could be no better documentary to watch than this.
Some of the harshest scenes involve a group of loggers who are stopped at a roadside checkpoint for transporting illegally cut trees from atop a mountain. They are brought to the station, only to be punched, slapped, poked and harassed by the cops. At one point, the cop yells at the cameraman to turn the camera off. When filming resumes, the loggers are having their mug shots taken, and are covered significantly with facial bruises. But nothing prepares the viewer for this: *WARNING*: at the 1:57:48 time mark, they gut a bound and gagged German Shepherd mix, so PLEASE turn away or fast-forward if you're like 98% of most domestic animal-loving people in any pre-apocalyptic society! CRIME AND PUNISHMENT is truly a tough pill to swallow the last 45 minutes. However, it's a fair insight into a society that "could be" if democracy and due process is allowed to suffocate and die. Makes you think, doesn't it?
Directed by Liang Zhao
Featuring the participation of: Wang Yufu, San'r (cast uncredited)
Budget: $100,000