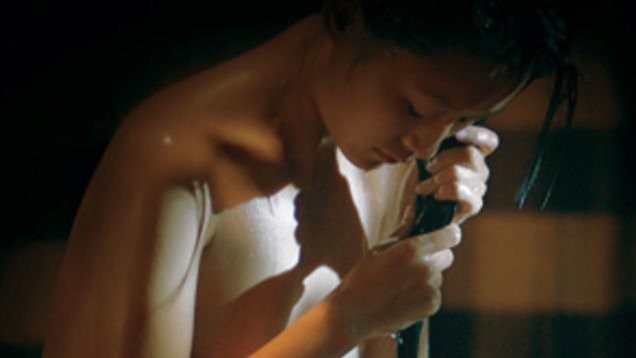 "♪ ♫Little bee flies to the west/ flies to the east/ flies to the riverside/ and the fish are dreaming♪ ♫…" ~GRANDPA WUYI & WANG HONGQI (You Li Ping & Chen Rui Xuan), both singing on a stone bridge, after seeing the action/war movie FOREST'S FLAME together.

Today's New Release: A BEAUTIFUL MISTAKE (a.k.a.  美麗的錯誤)
          A BEAUTIFUL MISTAKE made such a controversial impact at its 2010 *World Premiere* during the 15th Annual Pusan International Film Festival's *A Window on Asian Cinema* showcase, it was subsequently banned and was never made public in China. This film adaptation from the popular book highlights a VERY fine line between perverse, voyeuristic indecency and an almost beautiful flattery of the female form and the seldom noticed (and surprisingly appreciated) characteristics of individualism. Within a small Chinese village, a young boy, Wang Hongqi, is curious about everything from war, sex, movies, frogs, death, and even getting into trouble; he does have this naughty habit of stealing cash from his Dad's briefcase. When the gang of village children, lead by bully supreme A Fu (Hou Xiang) poke fun at young Hongqi for not seeing the latest action movie FOREST'S FLAME, i.e., "Whadya mean you haven't seen GOONIES yet!?!? You're (expletive) lame, beat it!!!!" (NOTE: I was 9 once, too. I soooo get it. It's okay, Hongqi, f*** those guys), Hongqi decides to coax one of the village elders, "Grandpa" Wuyi, who is the village coroner, to take him. In exchange, our young rapscallion will allow Wuyi to view the peephole in his paper-thin bedroom wall- literally. Through this opening, anyone can view the beautiful teenage twins Dazhen and Xiaozhen bathing in the laundry house back room at night. Does Wuyi take advantage?? You bet your ass! Is it creepy??? Y…yeah…b…but can you blame the guy? Is the consequence for getting caught too severe? Oh, HELL YEAH! Jeez, people, pull the sticks out of your sexually repressed, socially stifled and Communist-controlled asses!
The relationship between Wuyi and Hongqi could be looked upon as a weird, alternate parallel of the Vincent/Oliver dichotomy in last year's ST. VINCENT, however, when you follow this film through you'll see it's nothing of the like, especially with the EQUUS/Greek tragedy-like overtones. The lovely and enchanting Wu Lu Zhou marvelously plays both sisters; one content with her place in the village, the other at a complete loss of identity, as she's constantly confused for her sister. This act of peep-tommery (is… is that a word??) humiliates Xiaozhen, but liberates Dazhen as Wuyi shamefully admits that he can tell the sisters apart due to Dazhen's mole behind her ear; a characteristic NO ONE HAS EVER taken the time to point out before. What is seen as shame and humiliation from the whole town, turns out to be the greatest compliment to Dazhen. Her efforts, however, to show appreciation for this compliment tragically misfire. TRULY, A BEAUTIFUL MISTAKE is just that. In a time of strict social conditioning and moral rigidness in China's Mao-ruled era, Western idealism and forward thought can only end up face-down in the closest river.
Directed by Lu Hui Zhou
Starring: Wu Lu Zhou, You Li Ping, Chen Rui Xuan, Du Yan, Wang Zheng, Hou Xiang
Based off the novel by Zhong Qiu Shi