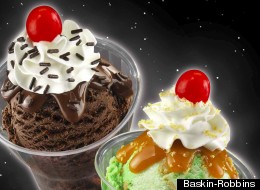 The "Men in Black" are back and this time they are bringing frozen treats in honor of the third movie hitting theaters May 25. Baskin-Robbins will be releasing new and old flavors in celebration of "Men in Black III" next month.
"Lunar Cheesecake," a popular flavor  from 1969, will be pulled out of the Baskin-Robbins vault to commemorate the new film. The last time this flavor was released was for the original moon landing.
New creations will include the "Lunar Lander" consisting of marshmallow and yellow cake, and "Agent 31″ for brownie and hot fudge lovers.
Baskin-Robbins is most excited about the "Pink Surprise Cake," which resembles a dessert from a critical scene in the movie.
The ice cream chain acquired their movie co-promo experience when they offered "Captain America" flavors last summer. Fans can grab a scoop of the "Men in Black III"-themed treats beginning May 1 in Baskin-Robbins stores.