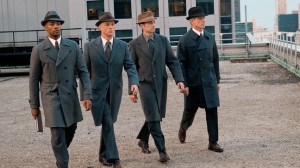 As BIGSTAR continues to add titles to its curated discovery and demand library, we've been watching the "premium VOD" space – i.e., the movies released 6-8 weeks after theatrical release. Time Warner, Universal and others are experimenting here (The Premium VOD "Adjustment Bureau" image to right) with not as much first window (i.e., theatrical) losses as one would expect. From The Hollywood Reporter:
People should have the choice whether to watch a film in a movie theater or at home later, Bewkes argued in explaining a consumer benefit of the new window, arguing premium VOD's existence may actually help reinforce interest in legal forms of viewing theatrical releases.

Wiesenthal also chimed in on the debate over premium VOD trials by some studios, including Sony. "Global theatrical distribution is the foundation of the economic value chain of a feature film," he said in a nod to exhibitors. But he also emphasized that studios must look to grow their movie business and take advantage of what he called the "white space" in the current system between theatrical and DVD releases.

"I know theater owners are scared," said Moonves, but suggested they have to "change a bit" as all industry players have had to adjust to technological changes.
We look at this space similarly to the studios – there is a "white space" and piracy does play a role – if there are legitimate, paying audiences who want content quicker than the windows allow. With our BIGSTAR service, we want there to not only be a paying subscription class of users, but we want users to discover film and share them with their friends as easily as they would tell their friends that they enjoyed "Fast Five" at the movieplex.
On the even earlier stage of movie consumption, a few years back, Mark Cuban launched "Ultra VOD" – which puts movies into the VOD window, pre theatrical. From TV Week:
The VOD price of the films will vary depending on whether it is before or after the film is released in theaters, Mr. Cuban said. It will range from $9.95 to $24.95 pre-theatrical release; once available in theaters, the VOD fee will be in line with local cinema pricing.
What's interesting is seeing what the demand is on these titles. Again, our model has been to measure pre-demand for titles so that we can let studios know how many users would rent or subscribe to a service with their titles. It will be interesting to see how audiences decide going forward. What are your thoughts?