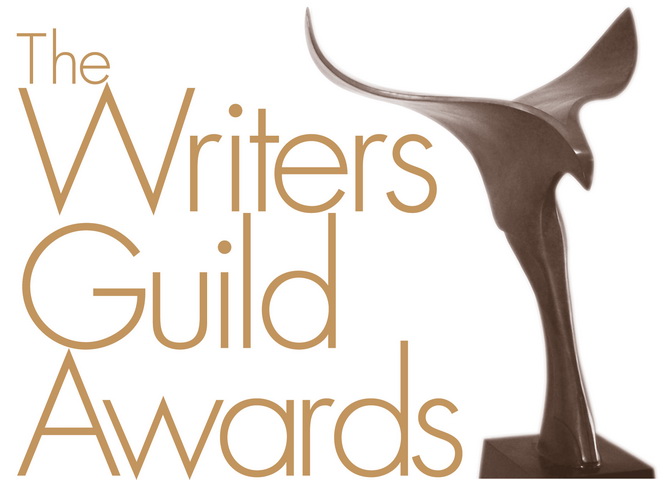 The 2013 Writers Guild Awards will be handed out Feb. 17, 2013 in simultaneous ceremonies in both Los Angeles and New York City.
Leading them all is AMC's 'Breaking Bad' as the most-nominated series with five nods, while ABC's hit 'Modern Family', has four nominations in the comedy category.  And of course there's always Showtime's intense drama series, 'Homeland'.
Some of the wildcard network newcomers that can take the cake this year are..
HBO: 'Girls', 'Veep', and 'The Newsroom'.
ABC: 'Nashville'.
FOX: 'The Mindy Project'.
Here' a list of the major category nominations – the ones you really care about, that is..
DRAMA SERIES
Boardwalk Empire
Breaking Bad
Game of Thrones
Homeland
Mad Men
DRAMA | EPISODIC
Breaking Bad, "Buyout" (Jesse and Mike quit the meth business, infuriating Walt)
Breaking Bad, "Dead Freight" (After Walt & Co. steal from a cargo train, Todd shoots their only witness)
Breaking Bad, "Fifty-One" (As Walt celebrates his birthday, Skyler hopes for his death)
Homeland, "New Car Smell" (Carrie meets Brody at a hotel bar, then follows him to his room)
Mad Men, "The Other Woman" (Joan beds the Jaguar guy, Peggy quits SCDP)
Breaking Bad, "Say My Name" (The DEA closes in on Mike)
COMEDY SERIES
30 Rock
Girls
Louie
Modern Family
Parks and Recreation
COMEDY | EPISODIC
Parks and Recreation, "The Debate" (Leslie faces off against Bobby Newport)
Episodes, "Episode 9″ (Season 2 finale; Merc is honored the day he is fired)
30 Rock, "Leap Day" (Leap Day is presented as a widely celebrated holiday)
Modern Family, "Little Bo Bleep" (Claire preps for her debate; Lily has an F-ing problem)
Modern Family, "Mistery Date" (Matthew Broderick guests as a new gym buddy of Phil's)
Modern Family, "Virgin Territory" (Phil learns that Hayley is not so "innocent")
NEW SERIES
Girls, HBO
The Mindy Project, Fox
Nashville, ABC
The Newsroom, HBO
Veep, HBO
COMEDY/VARIETY
The Colbert Report
Conan
The Daily Show With Jon Stewart
Jimmy Kimmel Live
Key & Peele
Portlandia
Real Time With Bill Maher
Saturday Night Live
LONG FORM (ORIGINAL)
Hatfields & McCoys
Hemingway & Gelhorn
Political Animals
DAYTIME DRAMA
Days of Our Lives
One Life to Live
The Young and the Restless