Our new BIGSTAR iPhone App just went live with a totally unique in-app purchasing feature!  iPhone users can now signup AND select a streaming movie subscription plan that will automatically and conveniently be charged right through their iTunes account.  (Also available is our iPad App with the same in-app purchasing feature!)
Just click on any of the images in this post and download the App now!
All other Video On Demand services make you jump through hoops – like having to also login with a computer and entering tedious information – while BIGSTAR is making it much easier for new members to instantly enjoy unlimited streaming movies wherever, whenever.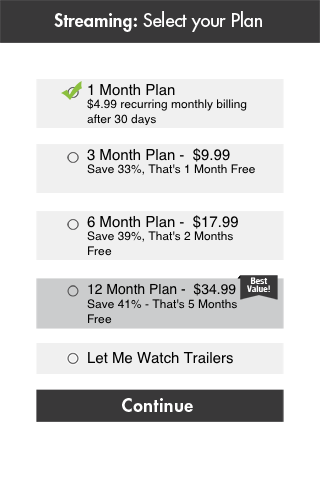 Here are the available auto-renewal subscriptions:
- 1 Month: $4.99
- 3 Month: $9.99
- 6 Month: $17.99
- 12 Month: $34.99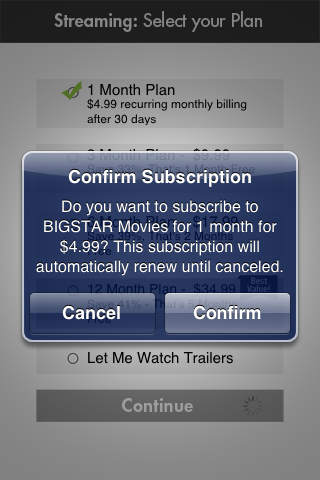 Other updated iPhone features include:
- Beautiful new interface that makes browsing and finding movies a snap
- Apple Airplay fully supported for streaming HD to your TV
- Faster upscaling to high quality playback, now happens in mere seconds
- New Collections section for finding those speciality titles
- Slide out drawer makes it easy to see movie details without cluttering the screen
- Facebook and Twitter integration redone for better security, sharing, and stability
- Rebuilt from the ground up with greatly improved stability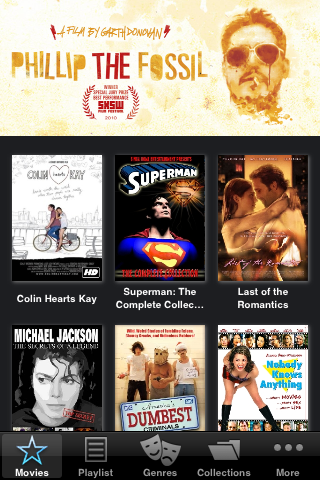 BIGSTAR Movies is a one-stop destination for the best movies and TV shows and provides an outlet for global audiences to watch titles instantly through almost any Internet-connected device, including iPhone, iPad, Droid, and many more!  Movie lovers can discover new releases, indie movies, hard-to-find festival winners, documentaries, foreign movies, cult favorites and much more!