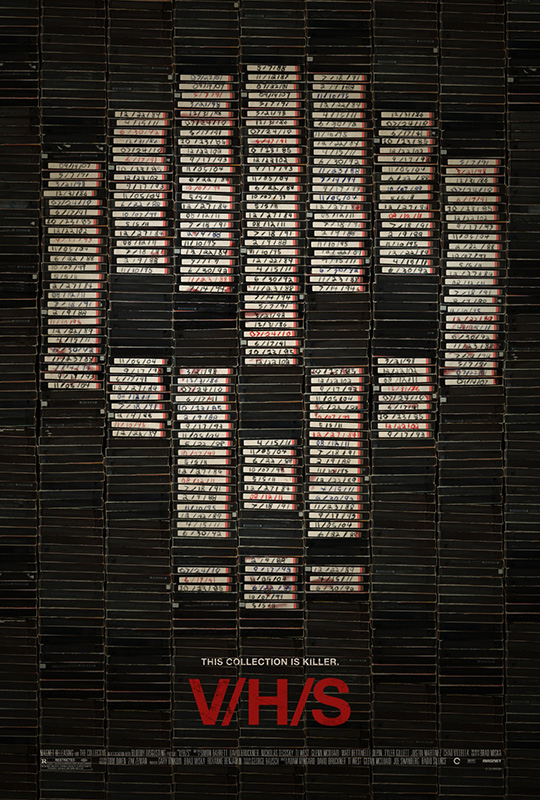 There is something totally creepy about watching or listening to stuff on old technology.  Especially when it's some mysterious found footage you've been hired to steal.  And if you're any kind of indie horror film fan as we are, 'V/H/S' is a must see this summer.  The movie, which debuted this year at the Sundance Film Festival, is a horror anthology featuring a great mix of different genres such as slasher films, ghost stories, and urban legends.
The movie follows a group of misfits hired to break in to a house to steal a rare VHS tape.  When they discover an entire stash of old tapes, they begin watching them only to find more footage than they bargained for.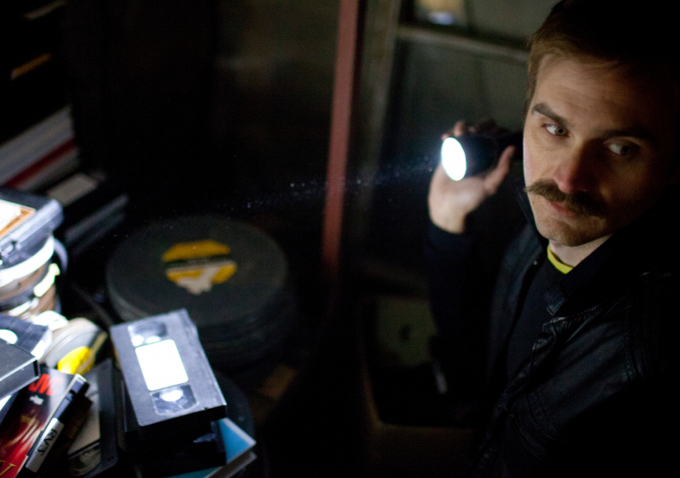 Basically, under one plot the movie is divided into five short found footage segments, for each of the five horrifying tapes they watch.  Each VHS segment is directed by one of independent horror movie's up-and-comers, including David Bruckner ('The Signal'), Glenn McQuaid ('I Sell the Dead'), Joe Swanberg ('Autoerotic', 'Cabin Fever 2′), Adam Wingard ('You're Next', 'Pop Skull'), and Ti West ('House of the Devil', 'The Innkeepers').
Watch the NC-17 red band trailer here:
Here's the official synopsis:
When a group of petty criminals is hired by a mysterious party to retrieve a rare piece of found footage from a rundown house in the middle of nowhere, they soon realize that the job isn't going to be as easy as they thought. In the living room, a lifeless body holds court before a hub of old television sets, surrounded by stacks upon stacks of VHS tapes. As they search for the right one, they are treated to a seemingly endless number of horrifying videos, each stranger than the last.
Bringing together some of the top filmmakers in the game today, this wickedly conceived horror anthology sends the viewer through a gauntlet of suspense, terror, shock, and downright brutality—instantly distinguishing itself from a sea of lackluster found-footage horror flicks. The diverse and deviously creative minds behind V/H/Sshatter any preconceived notions about the genre, making it feel inventive and captivating once again.