"You know, every time I'm gearing up to go kayaking, like, when it's THIS cold outside, I just don't even know why I'm doing it. Like I could be sleeping right now -other stuff- and the question I always ask myself is "What am I doing here? Why do we DO this!?!?""~CIARAN BROWN (kayaker) explaining his mental process for chilly whitewater excursions in New York with his friends.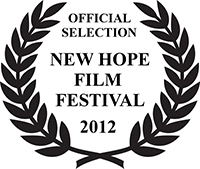 Today's New Release: EMPIRE: THE WHITEWATER STORY (The Award-Winning Kayaking Documentary)
         An *Official Selection* of the 2012 New Hope Film Festival, as well as being named winner of that festival's *Artistic Spirit Award*, this documentary takes us through both snowy and sunny upstate New York in over a year's time through towns like Buffalo, Ithaca, Letchworth and Watertown. All varying in age, a group of eight kayakers paddle through waterways (legal and illegal) like Oatka Creek, Murder Creek, Genesee River and Buttermilk Falls to name a few. I found this documentary just a tad too long for its overall purposes, but since I originate from Utica, N.Y. myself (birthplace of actress/singer Annette Funicello and blues guitarist Joe Bonamassa), I found the personalities of our three youngest kayakers the most intriguing… mostly because they talk like my cousins. Paul Twist, Ciaran Brown and the director himself, Dan Doran, offer the viewer the most fun as they rag on one another's kayaking woes. In one segment, Ciaran spends a good chunk of time outside of Paul's house as he overhears Paul and his girlfriend Konnie fighting right before Paul is set to leave on a major whitewater trip. High School students might they be, as kayakers and rapid river navigators, they're Jedi Masters! As stated over and over, they prefer this over ANYTHING in life, even if it's an adrenaline rush that can only be attained by breaking the law. In fact, while riding the Genesee River rapids in Letchworth over Lower Falls, someone in their party video recorded and posted the act on Facebook, which resulted in arrest warrants for both Dan and Paul (you see, that section of the Genesee is off limits to rafters and paddlers). This resulted in three different violations: failure to comply with permit, trespassing, and failure to use established waterways. So who rats 'em out!?!? For Director Doran, it doesn't matter, and his upbeat attitude is proof; "To the person who turned us in, I just wanna let you know that I'm not mad, I'm just determined."
This is an interesting doc made by young kids with passion. It IS engaging to watch Dan handle the voice messages left on his phone by police, all the while convincing his substitute teacher to release him from class, so he and Paul can go settle this the day before prom! (Poor Konnie!) It's also bittersweet in watching this group in their RIOT brand kayaks in old 2011 footage at Watertown's infamous Inner City. During the film's course, the boys find out that a gigantic flood in the upstate area had completely wiped-out the rock beds, permanently destroying the once mighty whitewater Valhalla. Whether good news, bad news or ANY news, these guys just refuse to stop, and that's what makes EMPIRE: THE WHITEWATER STORY TRULY bad-ass!
Directed by Daniel C. Doran
Featuring: Daniel C. Doran, Ciaran Brown, Paul Twist, Brian Page, Jim Dobbins, Mike LaFlair, Tony Gianfagna, Phil LaMarche, Adam Horton, Andre Hongach
Original Score by: Axis Armada and The Prickers