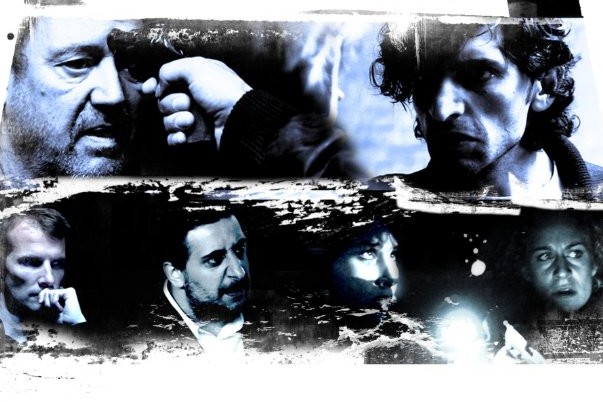 "You gotta shoot me. Can't you stand it when someone tells you the truth? Huh? Go on, pull the trigger, do it now! Kill me and show the world what a "big boy" you are, then that door will open ALL BY ITSELF!!" ~GABRIEL (Shaun Lawton) calling his captor Tarek's bluff.

Today's New Release: THE BASEMENT
        Receiving the prestigious *Award of Merit at the 2010 Accolade Film Festival, this suspense thriller from Germany stars Numan Acar from Jon Stewart's critically acclaimed new theatrical release, ROSEWATER. This feature also stars Shaun Lawton (CLOUD ATLAS; AEON FLUX; ANONYMOUS), Alessija Lause (HANSEL & GRETEL: WITCH HUNTERS) and Jeff Burrell (Lars von Trier's NYMPHOMANIAC VOL. 1) in a story about two strangers -an off-duty cop and a man on the run- who absolutely MUST work together to get out of the factory basement they've seemed to lock themselves into. When Tarek gets back his hostage girlfriend from the deadly trafficker Faruk, he knows they both must hit the road before a swarm of middle-eastern henchmen are hot on their trail. To protect his gal, Tarek puts the newly rescued Jasmin in the trunk to avoid detection, and off they dart. As they speed through the city, Tarek's shaky vehicle grabs the attention of Gabriel, an officer who happened to be taking a long-earned nap in his car. Well, a second pursuit becomes inevitable, where it results in an on-foot chase where both cop and suspect end up chasing each other into a basement that locks behind them! So that makes two guys locked in a basement, one gal locked in a trunk, and the cop's partners wondering where he went! Man, talk about "wrong place, wrong time!"
This is simply great suspense! There are confusing moments at first, like Faruk's dialogue in the beginning. A false establishment was made by yours truly in the beginning, where I was thinking that Jasmin was Tarek's sister instead… which made the make-out scene REALLY creepy, but that wasn't the case. This indie film has a camera style reminiscent to the TAKEN movie franchise, and an extended intro credit scene that looked fantastic, however, I think it would have been better suited towards the film's end, once all the pictured characters were better established. THE BASEMENT is truly a worthy Friday film for BIGSTAR, so have a gander!
Directed by Robert Franke
Starring: Numan Acar, Shaun Lawton, Alessija Lause, Jeff Burrell,  Sila Sahin, Kida Khodr Ramadan
Tagline: The Truth Lies In The Basement
(Alternate) Tagline: Trapped In… Torn Apart…