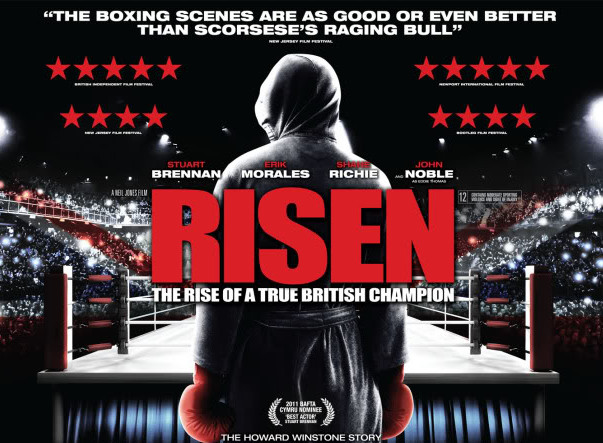 "… I've got more experience, and best of all, I've got BOTH hands. I'm only kidding, Howard's a great bloke, it's gonna be a great fight, but if this is the man I have to fight to retain my belt, so be it!" ~TERRY SPINKS (Billy Rumbol), addressing the abilities (and disabilities) of his upcoming Featherweight opponent Howard Winstone (Stuart Brennan), for the legendary 1961 Championship of Great Britain title bout at London's famed Empire Pool.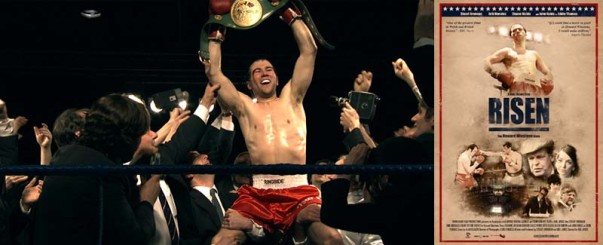 Today's New Release: RISEN
         A *Best Actress* win for Grainne Joughin at the 2009 Newport International Film Festival (Rhode Island); a *Best Feature Film* win at the 2010 New Jersey International Film Festival; a *Best Actor* win for Stuart Brennan at the 2011 BAFTA Awards (Wales); a *Best Director* win for Neil Jones at the 2014 Newport International Film Festival (Wales)… the accolades know no bounds with this fine sports drama! Starring British thesps John Noble (LORD OF THE RINGS: RETURN OF THE KING; FOX's FRINGE), Shane Richie (FLUSHED AWAY), and Boyd Clack (BBC's BEING HUMAN), this true tale of Howard Winstone is a compelling one. Howard became Featherweight Champion of the World at the age of 29 in 1968. What makes his story quite remarkable is that as a young man he lost the tips of three fingers in an industrial accident of his home town of Merthyr Tydfil… as his best friend and factory co-worker Don James (Ed Eales White) stood stupidly by holding a box with a gobsmacked look on his dumb face and did ABSOLUTELY NOTHING as his buddy screamed in agony (watch the 7:01 time-mark at what I like to call a major "friend FAILURE")! The accident was so severe that he was unable to make a fist with his right hand, a devastating blow for anyone, but a blow made all the worse for one who's entire career demands the use of both hands. Howard was known for his right handed power back in his early day's so the day of the fateful accident was essentially the day Howard's boxing career came to an end. However, due to the persistence of his father and his new trainer Eddie Thomas, Howard went on remarkably to become Champion of Britain, Champion of Europe and Champion of the World.
The film is a good honest effort at a motivational sports flick. It covers a lot in a limited time, and in cases, unfortunately rushes through key moments. It covers his major fights through the ranks, like Winstone's 1958 Sofia Gardens fight with Ollie Taylor, his 1959 battle with Billy Graydon at Wembley Stadium, his 1961 Championship bout at the Empire Pool with Terry Spinks, his first title defense with opponent Harry Carroll in 1962 at Maindy Stadium… important milestones of this biographical tale, but rushed in too many ways. Another rushed scene is at the 24:22 time-mark with the boxing commission, when Howard appeals for a professional license. The scene contains some extremely stiff dialogue, and too tight of a closed-in shot of the commissioners to really have the more dramatic impact that the exchange needs. Though this is nitpicky of me, this is still a TRULY fascinating boxing film along the lines of CINDERELLA MAN and RAGING BULL. "So my only question for you Lions, is who's your money on? Dragons or the LIONS!?!?" Oh, Mickey Duff… I ask myself that same thing every Sunday watching GAME OF THRONES. Keep watching, you'll get and appreciate said reference, my lovelies.
Directed by Neil Jones
Starring: Stuart Brennan, Grainne Joughin, John Noble, Erik Morales, Shane Richie, Ed Eales White, Boyd Clack, Helen Griffin, Simon Phillips, Don James
Tagline: The Rise Of A True British Champion